Mole Removal Cream Philippines
posted by: Rio Dianne
Women in the Philippines are also very vain about how they look like making sure that they are always gorgeous as possible. Sure, there are a lot of skin products available to get rid of a freckle or spots, but a lot are also looking for ways on how to get rid of their moles especially in unwanted areas. Apparently, the solution to this is to resort to laser mole removal treatment or surgery. However, the cost may be too expensive that it will let you shell out a couple from your resources. But, if you're determined to save a buck, then you can also try to search for over the counter removal cream as home remedy treatment. Mole removal cream in the Philippines – here are some you can look for.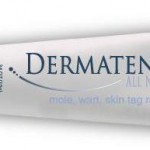 DermaTend cream is one of the most sought after mole removal cream that is noted to do the job. Apparently, the cream is made from all natural ingredients thus making it a good candidate for removing moles naturally. This is used by rubbing the mole with a pumice stone for about a minute. Afterwards, dab a small amount of the cream on the area and cover it with gauze for the whole night. The scab will eventually dry off in a few days after using the product and the mole will fall off eventually as well. The price usually varies, but it is estimated to be roughly about Php 3000 in the Phils.
Another natural remedy for mole removal is to look for over the counter creams which contain bloodroot paste. This may be used for large moles especially those ones which can turn to melanoma. Just like the DermaTend cream, you only have to dab an ample amount on the mole and leave it covered with a bandage, and then wait for it as the mole falls off.
There you go, that's our post about mole removal cream in the Philippines to care for unwanted moles. In cases when these home and natural remedies don't seem to work like you want, it is so much better to talk to your dermatologist and arrange for other options on how it can be removed.
You might also like