How to Make Breasts Look Smaller
posted by: Feby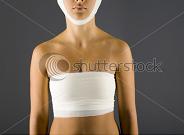 Some women are happy with their bust size but some would want it to be bigger or even smaller. We really have individual differences.  Some are contented of what they have while others feel otherwise.  Well, that is the very nature of human beings.   Anyway, if you are one of those women who are looking for articles that will help your breast size look smaller, then you are reading the right article.   This article will definitely help you on how to make breasts look smaller even you are not that skinny or thin.
Your big or large bust size could have been your asset but it turned out to be a liability.   So, I'm here to help you with the solutions of making that chest appear or feel smaller and less big.   These tips will create illusion that your chest is small to those who are looking at them.   Here they are:
How You Can Make Your Breasts Look Smaller
Lose weight.  When a woman is fat, more fats are stored in her chest, so it makes the boobs look bigger.  Therefore, if you think you are overweight then you should start shedding more pounds now by following a diet plan.
Find the right size of your bra.  Finding your right size will help you with this problem.  You can ask for a minimizer bra in some brassiere stores.
Do some chest work outs.  Exercising and working out can help you to change that cup size.  Chest work outs can make your skin firmer and can tone your chest muscle, thus it can make your bust smaller.
Avoid tight fitting blouses.  This will only emphasize your bust size, so, try wearing a little baggy shirts to hide that chest.
I hope these tips are helpful.   However, if you want to make your bust really small then talk to your physician and try breast surgery.  This maybe expensive but sure you'll get rid of your problem that fast.
You might also like
What Stunts Breast Growth
Breast development starts at the time a woman reaches her puberty stage. With the appropriate hormones,...