Best Perfumes for Men 2010
posted by: Gretchen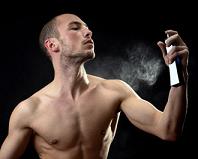 When we decide to buy some things, there are times when we can't decide which to purchase. It's especially true when the items of the same kind seem to be the same in a way or another.  If you are a man and set to buy a scent but you find it hard to choose from the display, then you've come to the right post. We will help you decide by giving you a list of the 2010 best perfumes for men.  This is also helpful for women out there who wish to give their men a first class fragrance.
Best Perfumes for Men 2010
John Varvatos: This perfume is more of a winter fragrance. The main components are tamarind tree leaves, Medjool date fruit, Clary sage flower, Coriander seed templar, Auramber, Indian Ajowan, and Leather essence.
Aqva Pour Homme by Bvlgari: I have smelled this and I can say it's really one of the greatest perfumes for guys. It smells nice and it's gentle on the nose.
Tom Ford Grey Vetiver: It is one of the most interesting and intriguing colognes of 2010. It is actually on top of the list. It is perfect for office wear. The price is about $75.
Vintage Black- Kenneth Cole:  This perfume is a male scent that you will surely love.  But apply this scent lightly.
Ferrari Black by Ferrari for Men:  This perfume is perfect for those who love light and cool scent.  You will not offense anyone with the light smell of this perfume.  It is also cheap compared to other items in the market.
Egoiste by Chanel for Men: This is the crown jewels of cologne. If you are a man with confidence then this perfume is for you.
Obsession by Calvin Klein for Men: This perfume offers a pleasing and classic smell that women around you will surely love. It lasts 24 hours and that is the best part of this perfume.
Le Male – Jean Paul Gaultier: This cologne reflects the idea that the world is a blend of black and white. This will be a good choice.
Yves Saint Laurent La Nuit De L'Homme: It is available as daytime and evening cologne. It has been designed to control the amount that you spray to avoid over spraying the content of the cologne.
Canali Men: This is the best cologne that will suit with your formal wear.
If you haven't owned one in 2009, then make sure that you are not only going to buy but you are going to wear one of these scents for guys before 2011. Don't miss the greatest scents in the world of perfume.
You might also like
Best Perfumes for Car
In order to enjoy your travel on the road, your car needs to smell good. Nobody would like to get in...

Best Present for a Guy
There are a lot of things that you can give your guy.  Actually, there are many choices out there. ...