Best Perfumes for Car
posted by: Gretchen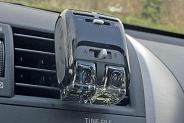 In order to enjoy your travel on the road, your car needs to smell good. Nobody would like to get in auto that smells like skunk.  The key to have a pleasant smell is to make it clean by getting rid of any waste inside it.  Regular washing the car or automobile is also essential.
To make it smell fresher and cleaner, manufacturers of perfume also thought of producing car perfume.  Car perfumes come in a variety of fragrances. There are a lot of scents that you can choose from.  Fragrances include strawberry, vanilla, jasmine, rose, pine, aqua, and many more.
We will give you ideas on the popular car perfume brands made by the greatest manufacturers to help you decide which brand to pick.
Ambi Pur Perfumes:   These perfumes are the most widely accepted amongother brands when it comes to car perfumes.   These are provided with a diffuser that fits into the blower and the fragrance can be adjusted.  These smell like your favorite daily cologne.
Zeolie:  This is a mineral that neutralizes odors.
Little Trees:  These air fresheners look like pine trees but they come in different scents and colors.  They can also be used as additional accessories to your automobile.  These are hanging  perfumes.
Magic Tree Jet Fresh:  This magic tree can turn your smelly automobile into something pleasant to the nose.
Neutradol:  This auto air freshener is one of the top brands when it comes to automobile perfumes.
Richbrook Poppy Coral:  This air freshener will make your car smell great and will add a touch of vibrant color, too.
Suppliers and manufacturers of these perfumes aim to make your driving a wonderful experience.  Car perfumes on your auto will give a fresher and more relaxing air to breath, thus making your drive a pleasant experience. Hope this post helps.
You might also like
Best Perfumes for Winter
If I would choose among the four seasons in this world,  I would choose winter.  Why?   I just love...