Xenical Weight Loss Reviews
posted by: Gretchen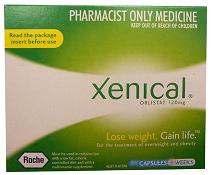 There are many diet pills out in the market that claim to be very effective in losing weight.  To make it even more convincing, they post testimonials online.  This makes it hard for people to choose which weight loss product will work for them.
In this post we will deal with Xenical by summing up some of the reviews done by people who have tried this.
What is Xenical ?
One of the popular slimming pills is Xenical, also called Orlistat.  It is a weight loss drug which is taken for obesity. This is prescribed by doctors to individuals who really have to loss weight. The doctors prescribe this after determining the body mass index (BMI). They say that it is an over the counter drug but you actually need a prescription before you can buy.
How to take Xenical ?
The suggested dosage for adults is 120 mg and should be taken an hour after every main meal.
How Does it Work ?
It works in the digestive system and it helps keep 1/3 of the fat that you take or consume from being absorbed by the body.
Pros
Prevents fat absorption
Effective and safe weight loss drug
Low-fat diet is needed
Designed for obese people
Cons
Can cause side effects like colon problems and UTI, oily spotting from the anus, skin problems, gum and tooth disorders
Only obese people can take this drug
Blocks vital nutrients from being absorbed
Xenical vs. Alli
Alli is a lower-dose version of Xenical.  This is also an over the counter drug. This is also taken three times a day and you can take it if your BMI is 25. More likely, they have the same function.
How much Does it Cost ?
In the Philippines, the price of Xenical starts from Php4, 000.  This will cost a lot because you will have to take it regularly until you achieve your desired results.  However, there are online promotions that offer cheap prices.
Before you decide to purchase any slimming tablets, you need to be certain of the effectiveness so you won't be wasting money and time.  Don't just rely in any success story that you hear on TV.  Don't compromise your general health just to lose weight.  See your doctor first.
You might also like