Shamcey Supsup – Miss Universe 2011 3rd Runner Up – Question and Answer
posted by: Dennis Aguilar
MANILA, Philippines – The Miss Universe 2011 pageant is over and it was Ms. Angola (Leila Lopes) who took home the crown. An obviously overshadowed beauty in the company of exquisite nationalities, Lopes was as surprised as many in taking home the award against the likes of our very own Ms. Shamcey Supsup (Ms. Philippines).
An obvious fan-favorite, Shamcey did her country proud. Supsup barely barged into the round of 16, selected 15th overall which surprised even her.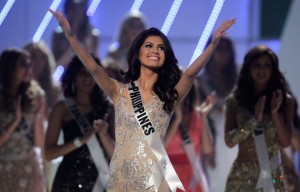 But to the surprise of her Filipino following, Shamcey managed to go as far as the top 5 which all but delighted the Filipino community with hopes that she may be crowned this year's Miss Universe 2011.
Supsup got the fans' second highest score for the Swimsuit and the Evening Gown category which further solicited the admiration of her Filipino followers. The Philippines practically went into a frenzy when she made the elite 5, raising hopes of a Filipina winning the coveted Miss Universe 2011 crown.
Equally impressive was her interview portion. Shamcey was asked:
Question: Are you willing to change your religion just to marry the one you love?
Answer: No. I will not change my religion because the first person I love is God. He is the one who created me. And the principles and values that I have now is because of Him. So if that man loves me, he should also love my God.
Shamcey's answer was admirable and inspirational but apparently not enough. She settled for 3rd runner-up but nevertheless improved on the previous showing of the Philippines. Miss Universe 2010 bet and now "Umagang Kay Ganda" host Venus Raj finished 4th runner-up last year.
The final order of winners are as follows:
Miss Universe 2011    : Leila Lopes (Angola)
1st Runner-up              : Olesya Stefanko (Ukraine)
2nd Runner-up             : Priscila Machado (Brazil)
3rd Runner-up              : Shamcey Supsup (Philippines)
4th Runner-up              : Zilin Luo (China)
Nevertheless, Shamcey's showing is an accomplishment in its own. Copping 3rd runner-up or 4th place from a batch of 89 beauties from all over the globe is already something  that should make every Filipino proud.
The feat is a testament to the beauty of the Filipino with no less than Ms. Shamcey Supsup as the living proof!
You might also like