Robert Pershing Wadlow of Alton Illinois – World's Tallest Man Ever aka The Gentle Giant
posted by: Rio Dianne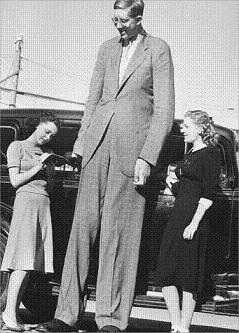 Robert Pershing Wadlow, also known as the "Gentle Giant", has been recorded as the world's tallest man who has ever lived. Can you believe that he actually reached the height of eight feet and eleven inches tall when he died in July 1940? Read the story of Robert Pershing Wadlow below who has a life-size bronze statue on the grounds of the Southern Illinois University School of Dentistry.
Robert Pershing Wadlow of Alton Illinois  – Tallest Man in the World
This world's tallest man in medical history was born in February 22, 1918 in Alton, Illinois, USA and was the first born of Addie and Harold Franklin Wadlow who later had four other children whom were all normal.
Robert Pershing Wadlow, when he was still alive, has been very active in a couple of organizations.  Among them is the Boy Scouts where, of course, he has been the tallest ever. In 1936, he planned on being a lawyer, but due to his skyrocketing height, his studies were hindered for the reason that he used to have trouble walking from a campus building to another.  Most of the times, he was treated because of his foot problems.
Because Robert Pershing Wadlow's feet were very large and his shoe size was 37AA, his legs were not proportioned in size to his torso and head, he would always require leg braces so he could walk.  Who would have thought that those leg braces would also play a part on his death? In July 1940, he died in a hotel in Manistee, Michigan because of a faulty brace that then irritated his right ankle.  The irritation caused a blister which progressed to a super infection. He succumbed to his illness at the age of 22 years old.  Robert Pershing Wadlow was buried in Oakwood Cemetery, Alton. His coffin measured ten feet and nine inches long, thirty two inches wide, and thirty inches deep.
If you are wondering why some people would grow this tall is because of a condition called Acromegalic gigantism.  This occurs when the pituitary gland produces extreme amount of human growth hormone.  Some people noted to have this condition are Sandy Allen which was known as the world's tallest woman, Sultan Kosen  who has also been a subject for the world's tallest man who ever existed.  On the other hand, there are also people experiencing dwarfism which is caused by the pituitary gland not producing enough of this human growth hormone.   An example of which is Gul Mohammed from India with the height of 1 foot 10.5 inches only.
You might also like
World's Tallest Dog Ever
In February 15, 2010, a new top dog has been crowned by the Guinness Book of World Records.  Hailed...