Leaning Tower of Pisa History and Facts
posted by: Gretchen
Almost everyone who gets the chance to travel to Italy makes sure that the Leaning Tower of Pisa (La Torre di Pisa) is included to the things that he/she should visit. Why not? It is one of the most interesting and magnificent architectural works besides the Taj Mahal, Statue of Liberty, and Eiffel Tower.  The leaning tower is the campanile of the cathedral of the city of Pisa. Its location is behind the cathedral.  This tower is inclined towards the southwest direction.  It is said that the inclination was due to poor foundation.  It measures 183.27 feet tall (leaning side) and about 186.02 feet tall (highest side). Let's shed some light on the history of the tower and on other facts.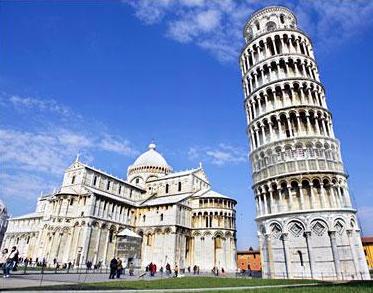 History of the Leaning Tower of Pisa
Who built the leaning tower? Who was the original architect? The construction has faced so much controversy for many years. Many believed that it was Bonanno Pisano.  In 1178 they had to stop working for its construction because it started to sink in the ground after it reached its third floor. It was stopped for almost 90 years after that. It was then completed by Tommano Simone and Giovanni di Simone.  Due to the tilt, the engineers had to work for the next four floors with one side taller than the other.  That made it lean in the opposite direction as seen in many pictures posted online.
Leaning Tower of Pisa Facts
The leaning tower is about 14, 700 metric tons.
It consists of about 296 and 294 steps (north-facing staircase).
The construction was from 1173-1372.
The tower leaned at an angle of 5.5 degrees in 2001.
It is cylindrical and it stands with 8 stories.
It was in 1198 when a temporary clock was put on the third floor.
The Nazis used the leaning tower as an observation post during the World War II.
Now that you know its history and some facts about it, why don't you plan for a family tour to Italy? You can see travel packages that include round trip tickets online.  That way, you can personally experience its splendid beauty.
You might also like
Best Places in Dubai
Dubai is known as the leading business hub of the Middle East. It is a city that keeps on stretching...