Kalipayan Resort in Dasmariñas, Cavite
posted by: Gretchen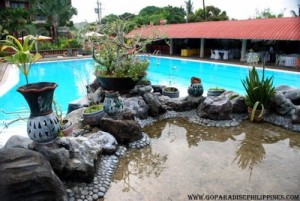 Metro manila is surrounded by beautiful bodies of water, although there are areas where in the water is polluted. The nearby provinces have hidden gems. There are nice beach resorts and beautiful tourist spots in them. If you are in Metro Manila and you are looking for a place where you can spend holidays, then you don't need to go any farther. Cavite has nice things to offer. Consider the City of Dasmariñas in your list of places to visit. It has resorts that will satisfy your craving for fun and recreation. One of the resorts is Kalipayan Resort and Hotel.
Features of kalipayan Resort and Hotel
This post will try to give you the necessary information that you need to know about the resort. Take a look at the following.
Where is it located?
Kalipayan Resort and Hotel is located 29 kms. South of Manila in the heart of the City of Dasmariñas. It is found in the neighborhood of major malls and entertainment areas.
Lodging
The hotel features 18 air-conditioned rooms. In each room, you'll find your won living room, bathroom, cable TV, and phone system with IDD & NDD calls.
Amenities and Facilities
The hotel and resort features the following:
Shower rooms and spacious powder rooms
Bar and restaurants
Dining huts
Kiddie pool and background
Function rooms
KTV
Rates
Daily Rates
Single occupancy: Php2200
Double occupancy: Php2600
Triple occupancy: Php3300
Extra bed: Php500/bed
Long Stay
The rates start from Php23, 000 to Php67, 000.
Kubo and Tables
Cottage: Php400
Tent: Php500
Round tables: Php300
Square tables: Php150
Entrance Fees
Adult: Php160
Kid: Php100
The use of swimming pool has varied rates. You can contact the resort if you have questions about other services that they offer. You can also have a spa treat at Dasma salons near the resort. Have fun!
You might also like