Blue Coral Beach Resort Philippines
posted by: Gretchen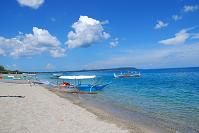 The Philippines is a country rich in natural resources which include pristine and beautiful beaches that really attract foreigners to spend their vacation and holidays in the country. Tourists love the natural beauty plus the warm welcome of the Filipinos. Spending a holiday in the Philippines is also less expensive compared to other destinations.  Your dollar can go far in the Philippines.
Where is Blue Coral Beach Resort?
In a small town called San Juan in the province of Batangas, there lies a small paradise. It's called Blue Coral Beach Resort.  This resort has gained favorable reviews because of its splendid beauty and warm accommodation of visitors. It is the most accessible escape from the toxic urban life in Manila.  If you want to ease the stress that slowly kills you, then pack your things and feel the warm comfort of Blue Coral Resort.
The Water
It has an impressive combination of white sand and crystal sea water that you will surely love. Swimming would be so much fun with the kind of water it has.
The Rooms and Facilities
The resort offers spacious and fully-furnished rooms and suites.  They are equipped with basic amenities that will take away your stress and worries.  Don't worry about the facilities and services as they have swimming pools for adults and kids, warm water pool, videoke, souvenir shop, restaurant, poolside bar, mini zoo, and fish pond.  It also has a tree house where you can stay for a better view of the place and the sea.  Expect the warm welcome and accommodation of every staff.
Things to Do in Blue Coral Batangas Beach Resort
If you are into sports, you won't miss its fun because you can play billiards, badminton, and darts right within the resort. If you are the adventurous type, water sports are there, too. You can try snorkeling, kayaking, fishing, boat touring, and banana boating.
Isn't it a great destination on your next vacation?  Don't go any further because you'll have things that you can enjoy in Singapore and Thailand.
You might also like
Ilocos Norte Tourist Spots
The Philippine Island is full of adventure and surprises. There are a lot of things that could give you...