How to Travel with Cats
posted by: Feby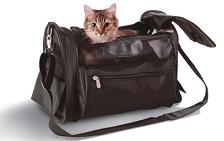 Holidays are really near approaching.   You had probably planned for what place are you going to visit, and had already made some travel schedule and the things that you would be probably doing in that particular place.   But wait, your plan would be just for your family, what about for your pets like cats ?   Have you given much thought also on how to travel with pets such as cats ?  What are the best ways to travel with cats whether it's a short or long journey such as international travel?  Don't worry!  In this article I will give you some tips on how to bring animals or your pets on your vacation spree.
Here are some tips that you would want to try on your feline buddy or kitten when traveling:
Traveling by Air :
Make sure you had rabies vaccination certificate and a health certificate. These things will be asked from you in any airlines.
Don't use tranquilizers to your kitten before or during the flight.
Make sure you had a roomy cage for your cats to make it comfortable during the flight.
Label the cats' cage including some personal information such as name, address and contact number.
Traveling by Car :
Your cat should be placed in a very comfortable cat carrier.  That means it should allow your pet to move like stand and lie down.
Feed your pet the same food you have been feeding it.
And don't leave your cat inside the car whenever you have to park it for awhile.
Make sure your pet is in good condition before bringing it somewhere.
Travelers with pets should call some airlines before booking a flight because different airlines have specific guides on how to handle your pet when traveling.  Moreover, try to book in a hotel where pets are allowed.  Be sure also that your pet is in good condition and ready for traveling by asking its vet's advice.
You might also like