How to Travel to Boracay Island Philippines
posted by: Feby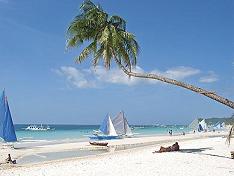 I have mentioned in my previous article that the Philippines have so many things to offer to everybody who wants to visit the country.   Some foreigners see the hidden beauty of this place and that is why some of them keep coming back and begin to love the place.   Philippines is consists of many islands and so it is known for its white sand beaches.   One of the famous beaches in the world could be found in this place and that is the Boracay Island.
Boracay Island is a beautiful place to visit and good place to spend your vacation.   It's said to be the paradise at the center of the Philippines. You would be probably asking how to travel to Boracay Island.
How to Go to Boracay Island ?
Well, you have great options to get there like by air, bus, or ferry.  However, there's no transportation that can really bring you to the island directly.  The fastest way to get there is by airplane.   You can book your flights to any of these airlines: Philippine airlines, Cebu Pacific and Zest Air.   Since there is no direct flight to the island you need to stop at Caticlan or Kalibo and then ride a ferry to the island.
If you are afraid to go there by yourself then you can contact the nearest travel agency to arrange your flights, hotels and accommodations.   You can also ask your travel agency to provide you a Boracay travel guide to avoid the hassle in your vacation.
Remember, Boracay is one of the densest places during the summer. So to avoid the hassle, book your flights earlier than your planned dates. And also if you want to avail the cheapest tickets, then you should book your flight as early as you want to, probably a few months before the desired flights.
You might also like