Cheap Disneyland Hongkong Packages Tour from Manila Philippines
posted by: Gretchen
Planning to visit Disneyland Hong Kong ?  There's a kid within us.  Sometimes we want to experience the things we used to enjoy when we were still kids. We want to have fun in the world of fantasies and magic.  It's our great escape to the real world.  At least for a few moments we forget our worries that keep on twisting our brain.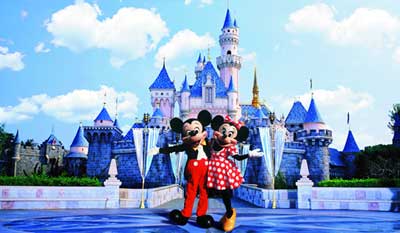 One great place where we could take a journey to a world that is full of magic and dreams is Disneyland.  Spend your vacation with your family in Hong Kong Disneyland.
This post would help you enjoy your trip to the magical world of Disney by giving you tour package deals to Hong Kong.
Low Cost & Affordable Hong Kong Disneyland Packages Tour from Manila Philippines
Oriental Travel: Their package tour presents the following itineraries: hotel pick-up time from 9:50 am to 10:30 am or 12:45 pm to 1:24 pm, park and facility explanations, Hong Kong Disneyland arrival, fun at park facilities, and back to hotel 30 minutes after the Fireworks Display.
Prices are as follows: For regular days each adult pays HK$ 520 (US$67), each child (3-11) pays HK $ 420 (US$57), while each senior (65 years and above) pays HK$400 (US$52). Hong Kong Disneyland admission tickets are included. I don't know if you can ask some discount.
Joy-travels: Their package tour is for three nights and four days. It also includes return airfare, accommodation in Hong Kong city hotel, 1 full day Disneyland tour, free half day Hong Kong Island tour, airport taxes and visa extra, and free return airport seat-in coach transfer with 1 luggage/tourist. Sad to say I cannot include the price but you may visit their site.
Travelph: Inclusions in the package are hotel accommodation with breakfast, half day city tour, free optional hours, roundtrip airport-hotel-airport transfers, and service of English speaking guide. Visit travelph.com for comprehensive list of prices and conditions.
You can also visit mynetbizz.com to see their Hong Kong Disneyworld Package from Manila.
Other packages also include a trip to Universal Studios Singapore.  Hong Kong is also a good honeymoon destination. You will enjoy the romantic ambience of Kowloon plus the exciting rides in Disneyworld! You can bring a Hong Kong map for you to locate the places you'd like to visit and to address your other needs.
You might also like