Best Time to Travel to Egypt
posted by: Gretchen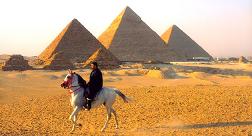 Egypt has been one of the favorite tourist destinations in the world.  Why not? It is one of the best places to see before you die.  It has been known as the cradle of civilization for centuries and a cradle for inspiration.  Egypt is the source of many discoveries and experiences.  People want to see the wonders of the country like the Nile River and the intriguing great pyramids.
For you to enjoy your tour or visit to the country, you might as well want to know the perfect time to fly and be there.
When is the Best Time to Go to Egypt ?
The best time of the year to go there is October through May.  The weather is really good and friendly.  You will love the temperature and you will simply love going around Egypt.  You will experience cool nights and sunny days. However, December through February is not good for swimming because it sometimes gets cold and rainy.  November through March has the average temperature so consider these months as a good choice.  On the other hand, if you don't mind the temperature, the best time is during summer.  This season is also the cheapest so you can save some amount of your money.  For the Nile River cruises, it is best to experience them from December to February. It's safe so don't worry.
Great Places to Visit in Cairo ?
Great Pyramid
Egyptian Museum
Hanging Church
Ezra Synagogue
Ibn Tulun
Cairo Tower
Where to Stay in Cairo ?
There are many luxurious hotels in Egypt where you can stay during your vacation. For a more organized trip and cheap flights, consult the travel agencies near you. They can also give you some tips before you go on board. If you want to drive or rent a car while you're in Egypt, ask travel agents, too.
May you have an ultimate Egyptian experience!  Enjoy the breathtaking sights in there!
You might also like