Best Places for Christmas Vacation
posted by: Gretchen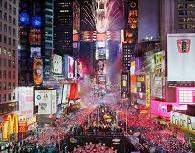 Planning to spend your Christmas vacation somewhere else?  Do you want to experience the spirit of the holiday in other places away from home?  Well, why not? It's going to be a lot of fun!  Where do you plan to travel ?  If you haven't made up your mind yet then we'll help you decide by giving you the best places to visit for Christmas vacation.
Best Christmas Destinations
New York:  If you want to experience Christmas in New York, then go to Times Square. It is one of the favorite tourist destinations. You would enjoy every party every minute when you are in Big Apple. Tour the very busy streets of the city and treat yourself with shopping.  Indulge yourself in the fine hotels and restaurants in the city.
Paris: As they say, there's no place like Paris.  It is one of the most interesting cities on earth.  It is actually an ultimate destination anytime of the year.  For a holiday like Christmas, enjoy the city of lights with a sip of French wine and fireworks and city lights that brighten your nights.
Rome:  Don't miss European vacation, as it is always a good choice. There are traditional Christmas celebrations for tourists or visitors.
San Diego: Are you in for whale watching?  Take your kids with you and enjoy the gray whales that migrate from the Beijing Sea to Baja California. December is the perfect time to see them in crowds.
Hershey:  Be in the heart of the holiday's festivities in Hershey, Pennsylvania.  You get to visit Hershey's Chocolate Land and experience a chocolate tour.
Orlando:  If you are not into skiing, go to Orlando.  You will be entertained by the big amusement parks in there – the SeaWorld Orlando, Walt Disney World Resort, and the Universal Orlando Resort.  These are just some of the attractions that you could not resist.  You'll forget the worst vacation you'd ever had once you're there.
Las Vegas: If you decide to spend your Christmas vacation in Sin City, you'll cherish it for the rest of your life.
Travel the world in the holiday season! Experience the xmas celebrations in other places or countries.  Look for travel agencies that offer the cheapest deals and travel packages. Have fun ahead!
You might also like