Best Places for Winter Vacation
posted by: Gretchen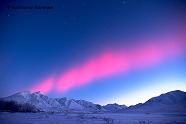 Winter is here! So where are you heading to?  To the North or to the South?  To the East or to the West?  Well, I've got some winter vacation spots here. These are good family destinations and I am pretty sure that everyone is going to enjoy.  You might as well want to take a look at them.
Here are the Best Places for Winter Vacation
Alaska:  take your kids along with you and have fun together.  You can go for dog sledding, go skiing or mountain viewing.  There are good ski resorts in there.  You'll discover other wonderful things there once you get there.  Be careful with your clothing.  Do not forget that Alaska's cold climate.
Orlando:  Tired of snow and want something else?  I think Florida can be a good choice.  You'll experience a beautiful and friendly weather plus the magical  Disneyland is there waiting for you.  There are good discounts in the winter so grab the opportunity!  Don't miss the exotic restaurants and the beaches in Miami.
Hawaii:  This US state has been one of the favorite tourist destinations because of its tropical climate.  They say Hawaii vacations have it all.  It is a perfect place of beautiful beaches, adventure, and relaxation.  It's one of the best vacation ideas for couples.
Sweden: Have you heard about the Ice Hotel?  This is your chance to see its amazing structure.  It is located in the village of Jukkasjarvi.
New England:  This is a very historical place in the United States of America.  You'll see here a great number of historical sites and there are plenty of activities during winter.  Get the chance to see Mount Washington, the highest peak in the Northeast of US.
Mexico:  The warm weather will surely make you forget the biting cold caused by winter.  Experience the culture and life in Cancun and Yucatan.  The beaches are splendid.  It's going to be a warm winter vacation for everyone!
Hershey:  If you plan to travel during the Christmas season, Hershey is the best place to go.  Witness how The Hershey Park magically transforms into a Christmas candy land.
There you go!  I hope that you will have a great winter vacation!  Visit travel websites to get ideas about car rentals and hotels in your target destination.
You might also like
Best Perfumes for Winter
If I would choose among the four seasons in this world,  I would choose winter.  Why?   I just love...