How to Date a Fat Guy
posted by: Gretchen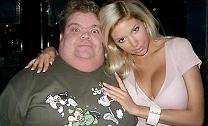 If men prefer sexy women, women also prefer sexy hunks.  Normally we want to have good-looking partners.  Why not?  They are self-confidence boosters.  If you have a good-looking partner, you are being envied by many.  If you have a fat partner, chances are, you are being laughed at by the people around you.  But should care about what they say if the person is your happiness?
Guides when Dating a Fat Man
For those women who are into dating a fat guy, this post is for you.  You can take a look at the following and learn some dating tips.  Keep reading girl.
Bear in mind that there is nothing wrong with dating fat men.  Weight and looks are not everything.  So what if the guy is fat but has a good character?  Isn't it better than having a handsome man but unfaithful and does not know how to respect you?
Fat guys are sweet lovers.  You should remember that.  They are caring, thoughtful, generous, and faithful.  You can expect a fat guy to be loyal and faithful to you.  Your heart is safe with him.  Don't you want to secure your heart?
Most fat men won't chase other girls if they are into a relationship.  They don't have the heart to hurt you.  You will never be jealous about him being hooked by other girls.
Since fat men have huge appetite, you'll never be hungry.  You will never run out of food.  You will have plenty of food and drinks.  This is actually one of the benefits of dating a fat guy.
If you cook for him, you will never worry if he is going to like what you prepare. He will certainly eat them up.
You have your boyfriend and at the same time security guard.  Your heart and body are safe with him at all times.  This dating advice is really true.
That's it! Enjoy dating with a fat guy and you will be full of love and fun.
You might also like