How to Seduce your Boyfriend
posted by: Gretchen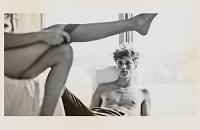 Women have the natural power and charisma to turn on the urge of boys. Even if they don't do anything, their boyfriend or husband are seduced. Most of the time, the man does the first move and starts the fire.  However, men do not have to be the first one to initiate lovemaking.  Sometimes women need to do it to have a healthier relationship. Knowing the art of seduction also keeps your man interested to you.
Here are Some Sexy Tips to that you can Do to Initiate Satisfying Moments in Bed:
Men are aroused by what they see in you.  You don't really need to work very hard to catch his attention and make him feel that you want him.
Think of ways to attract and excite him.  Flirt with him but don't give in immediately.  Drive him crazy by planting seduction in his mind.
Be beautiful, sexy, and fresh in his eyes.  Spray a good scent because it also awakens the urge of your partner.
Wear something seductive like see-through lingerie or something that could give emphasis to your hot curves.  Upon seeing you, I am pretty sure he will be turned on and he will make love to you.
Send your boyfriend naughty messages to make him feel you are into him and you want him.  If you can send some sexy photos, it will be a lot better.  Men are visually stimulated.  He'll be rushing into you.
Wear a blouse that is quite revealing and hug him or lean on his shoulders. He will be tempted to look at what you've got.  But if you are in public, be careful with what you wear.  Other guys may enjoy the sight, too.
Do striptease.  Your boyfriend or husband is going to love it.  A typical girlfriend can do it for you.  This could be the best way to hit the hidden switch of your man. If you want to win your ex boyfriend back, this will work, too.
Don't be shy to seduce your boyfriend.  If you love your partner, do it more often and he'll never forget you and your skill.
You might also like
How to Date a Bad Boy
It's funny but most good girls fall for bad boys.  They simply can't resist the charisma of bad...