How to Date a Woman with a Boyfriend
posted by: Gretchen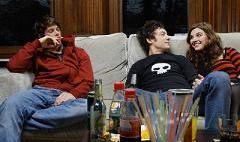 Dating a woman with a boyfriend can be risky but rewarding if you get the girl.  However, there are many things that need consideration if you are into this situation. Don't just do any move without thinking wisely. You should not forget that you are after a committed woman.  If you really cannot stop thinking about her, then give it a try by following this dating guide.  We have some dating tips for you.
Here's How to Date a Woman you Love if She has a Boyfriend
Try to find out her reason for telling you that she has a boyfriend.  Does she really have one?  If she has a boyfriend, why does he entertain you by the way?  Do you really want this kind of girl?  Listen to the answer of your heart.
It's true that if you love someone, you'd do anything to have the person. No matter how hard it is, you keep on trying your best to win the person. However, you should consider her boyfriend's feelings.  Try to put yourself on his shoes. What would you feel if your woman is being wooed by another man?  You know that you are hitting male ego.  If you can still fight the feelings you have for the girl, stop right now.
If you feel that the girl is not happy with the current relationship and she tells you her sentiments, be her crying shoulders and comfort her.  Be her knight in shining armor who is always ready to rescue her.
Show that you are different from her current man and that you are a better man.  Don't do the things that her boyfriend does.
Invite her to a friendly or group date.  Give yourselves the chance to get to know each other well.  Don't seduce her right at your first date.  Females get scared if you do it.
If the relationship seems not working, then it's your time to take over and reign!
I hope that these pieces of advice can be of help to you in trying to get a woman who has a boyfriend.  Good luck man!
You might also like
How to Date a Fat Girl
Fat women are sometimes insecure about themselves.  They think they are so ugly because of their weight....