People Got Mad to Senator Chiz Escudero when He says "Mga Magnanakaw Dapat papanagutin" after Typhoon Yolanda
posted by: Dennis Aguilar
During the typhoon yolanda, it was reported that a lot of people broke into
grocery stores and stole food and other stuffs.  There's even a report that one thief took close to 500,000 Pesos when  he broke into the house and took cash, gold bracelet, digital camera,  gold earing, diamond ring from a rich Chinese Family.
And now a lot of netizens got mad to Senator Chiz Escudero on the photo I saw being shared on facebook.  On the photo he says to arrest all of the people involved in stealing during the typhoon Yolanda. He says that all thiefs during typhoon Yolanda should be held liable, arrested and put in jail.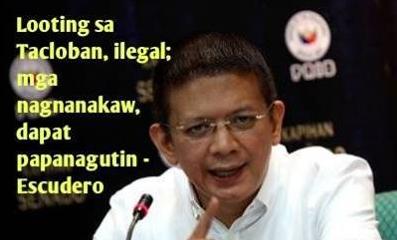 Most of the netizens reacted negatively to him. They are saying that the Senator could only say that because he is not a victim and he doesn't feel the hunger the same way the victims can feel it right now.
They also added that why is the senator could see them while he is ignoring the big men in the government that are involved in corruption like the pork
barrel scam.
Here are some of the people's reactions I got from facebook.
"eh wala ka kasi sa kalagayan ng mga biktima kaya mo nasasabi yan, bakit ndi mo na lang pagtuunan ng pansin yung mga kasamahan mong senedor na mas malaki ung ninanakaw sa gobyerno"

"Nagnakaw lang naman yang mga yan kasi ang bagal magpadala ung gobyerno tapos sobrang koonti pa tapos gutom na gutom na. Yung maliliit na magnanakaw eh napapansin mo samantalang ung mga magnanakaw sa gobyerno dapat non pa hinuli eh"
How about you? What can you say? Don't forget to leave your comment below.
You might also like