Natural Remedies for Gingivitis
posted by: Rio Dianne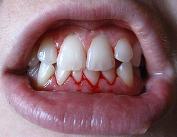 Gingivitis is a local infection that occurs in the mouth. Usually, this is a result of a variety of causes and topping among them are bacteria and poor oral hygiene. Though bacteria is said to be helpful in the digestive process, having excessive of them can cause great damage to the oral cavities.  The issue should be treated immediately as delaying treatment can progress to periodontitis.  If you are suspecting that you might be suffering from this disease, then take a look at some symptoms associated with it including – bad breath, sensitive gums, swollen and bleeding gums, and gums that appear bright red or purple. Once you've found out that you are suffering from it, then it is possible that you are looking for ways on how to get rid of it.  There is a variety of treatment though, but if you are looking for natural cures, you've come to the right post as we'll give you natural remedies for gingivitis.  Stick with us!
Home Remedies for Gingivitis
Regular brushing and good oral hygiene is by far the best remedy on how to eliminate gingivitis.  This allows you to avoid plaque build-up in the mouth.
Add a pinch of salt to warm water and stir it.  Gargle the solution and do this after every two hours.
Herbal remedies including aloe vera and garlic clove can be rubbed directly to the gums to treat the problem.
Did you know that apple cider vinegar can be good for your oral health, too?  A tablespoon of this can be mixed with a half cup of water and can be gargled as gingivitis cure.
Tea tree oil also possesses antiseptic properties thus playing a role in treating the bacteria causing the condition.
Among the natural remedies for gingivitis is to consume a diet rich in Vitamin C as well as foods rich in fiber like apples and carrots.
And now you know some natural remedies for gingivitis.  Usually, these may take days before it actually runs its course.  Moreover, you should adhere strictly to preventive measures so that you won't suffer from this one again.  A part of those preventive measures is to regularly visit your dentist to make sure that your oral health is in good shape.  Good luck!
You might also like
How to Treat Xerostomia
Lately, we've written some posts about the different steps you can take to treat a variety of dental...