How to Get Rid of Bed Bugs at Home Naturally
posted by: Gretchen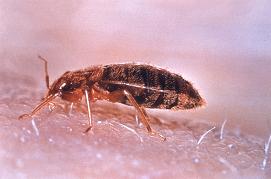 Having bed bugs at home is such a disgusting thing.  Bed bug bites cause skin irritations and allergies.  It's simply unhealthy.  This is one of the most common problems that we have in our house.  Now you wonder how to kill bed bugs naturally. You want them out of your house. You don't have to worry because we can control bed bugs this with some home remedies. You can do them yourself.
Where do bed bugs come from ?
Bed bugs are present in all countries.  They are from the world of insects. They are transported through luggage, bedding, clothing, and furniture.  It is believed that American travelers contributed to the spread of bed bugs.
Getting Rid of it Naturally
Here are some ways on how to eliminate them at your home.
Remove your bed sheets. Check your bed carefully.  It may be hiding in some parts of it. Put the bed in an open area of the room.
Clean your bedroom. Vacuum the area where your bed is placed. Go over it several times.
Wash your sheets and blankets separately. Use hot water. Use the usual amount of detergent and bleach.
If your mattress has a surface that can be wiped, use an antibacterial Clorox and wipe the mattress.
Take a hair blow dryer and run it over the mattress slowly.  This thing will burn any bugs and larvae.  But do not leave it long in an area to prevent fire.
Go back to your bed. Wipe the frame the mattress rested on thoroughly.  Use a Clorox wipe.
Afterwards wipe it with a damp towel and use a blow dryer to it.  But do not let it sit on an area too long to prevent fire.
Clean and wipe any night tables that are next to your bed with Clorox wipe.
Check your dressers because they might be hiding on your clothes. They also stay in your luggage. Keep your carpets clean, too. This is one way of getting rid of dust mites.
You can also use bed bug spray in cleaning your bed and dressers.
The best way on how to prevent and eliminate them is to wash your sheets and blankets in hot water once a week.  Another thing that you can do is to take a shower before bed time to help keep bugs away.
How about the bites ?
You don't notice them when they bite you because their bites don't hurt actually. You will just feel it when their bites start itching.  If there are bed bug bites on your body do not scratch them. Use an anesthetic cream or calamine lotion.
These are the ways on how to kill bed bugs at home naturally. You don't really need a professional help. You just need time to do the cleaning and washing.
You might also like