High Protein Breakfast Foods
posted by: Gretchen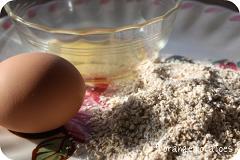 Most people say that the most important meal of the day is breakfast. It should consist of low fat but high protein food items to have an ideal way of breaking the fat from the night before.  Its good to have a lot of proteins for you to have a lot of energy throughtout the day for your body's activities and work.  The breaking down of the proteins into amino acids would also help your body to repair the cells and build muscle tissues of your body. Another important function is that it keep your organs well hydrated.  Below is a list of some of the high protein breakfast food items.
Low Carb High Protein Breakfast Foods
Eggs: Eggs are an excellent source of protein.  The proteins found in eggs are large in quantity and can be processed into healthy amino acids.  The fats and cholesterol found in eggs boost the digestive and respiratory systems. So start your day with eggs.
Cereals: They are rich sources of vitamins, minerals, fats oils, carbohydrates, and protein.  It is also very convenient for everybody. It will also keep your stomach from rumbling until lunch time.
Oatmeal: Another popular breakfast is oatmeal.  It is the healthiest food because of the dietary fibers, carbohydrates, and proteins that it contains. This makes your heart even healthier.
Bread (whole grain): The whole wheat bread is a healthy combination of dietary fibers and a large amount of proteins.  It is also a good snack.
Fish: It is rich in healthy fats and protein.  It is a great source of Omega 3.
Soy Products:  Soy products like soy milk are an excellent source of protein.  They are also perfect for people on diet.
Protein Shake:  Protein shakes are prepared with the combination of milk, fruits, and nuts.   This drink is perfect for body builders and athletes.
Traditional Breakfast Meals:  Sausage, bacon, and ham are also great breakfast and food items.
Some vegetables are also good sources of protein.  So include them in your market list.  You can also take protein supplements.  If you want to get some recipe, menus that are rich in protein, there are many sources online. You can also get nutrition ideas.  They are just a mouse click away. Stay healthy.
You might also like
How to Eat Wholesome
Eating following the food pyramid is difficult to do for most people. They tend to be influenced by the...