How to Make Ensaladang Talong (Eggplant Salad) – Ensaladang Talong Recipe / Ingredients
posted by: Feby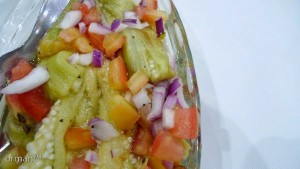 Some say that you can't get anything from eating eggplant but a small dosage of nicotine. But based from studies, eggplant is rich in fiber, vitamins and minerals. Confusing right? Whatever they may say, a lot of people still find eggplant delicious and good.
In the Philippines, there are so many dishes and recipes that they can make and cook using this ingredient. They can cook it by mixing with other vegetables in pinakbet recipe, or mix with egg and make it as tortang talong and a lot more.
Let me share one of my favorite side dishes that use eggplant as a main ingredient. Let's all learn how to make ensaladang talong or eggplant salad. This Filipino food or side dish is best paired with grilled fish and meat.
Ensaladang Talong (Eggplant Salad) Ingredients:
3 large eggplants
2 large tomatoes, sliced
1 medium sized onion, sliced
¼ cup of balsamic vinegar
Pepper
Salt
1  piece of chili, sliced *optional
Cooking instructions on how to make ensaladang talong:
First, grill or boil the eggplant until the skin is soft enough to remove.
Next, peel the skin of the eggplant. Mash the eggplant a little bit in deep plate or large bowl,
Then, add tomatoes, onion, vinegar, salt, pepper and chili into it. Mix the ingredients well.
Finally, serve with rice and grilled meat or fish.
It's okay to burn eggplant's skin while grilling, so don't fret. You can use spicy vinegar and ditch the chili. You can eat this Filipino dish as side dish or as a main dish. This is also best eaten when using your bare hand (the usual Filipino way of eating). Try this now and you will know what I am talking about.
Enjoy your meal!
You might also like
How to Cook Kare Kare
When looking for something to cook on different occasions, definitely we look for recipes that are easy...