How to Cook lasagna with Meat
posted by: Feby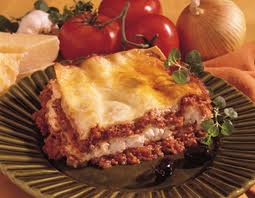 Holidays are really near.  I can smell it in the air.  I can feel the happiness it brings to a family and even friends.  Some people are getting ready for their presents while some would be busy thinking what food are they going to prepare on that day.  And I'm one of those people who are thinking about food to prepare on those holidays.  My family is so fascinated with eating delicious food and one of their favorite is lasagna with meat but not with chicken to be specific.  And if you are thinking to prepare lasagna with meat but don't know how, I'll be glad to teach you how to cook lasagna with meat.
Here's how to make this recipe:
INGREDIENTS :
2 KILOS of lasagna noodles (cooked)
FOR MEAT SAUCE:
½ kilo of ground pork or ground beef
1 cup sausage
2 big onions (chopped)
5 gloves of garlic (minced)
1/3 cup of soy sauce
1 cup of water
1 cup of tomato sauce
½ cup of tomato paste
4 tbsp. of sugar
Basil leaves
Pepper
FOR WHITE SAUCE:
¼ cup of all purpose flour
¼ cup of melt butter
1 ½ cup of milk
½ cup of water
Grated cheese
Parsley (for garnishing: optional)
METHODS:
Meat sauce:
Heat the pan.  Sauté garlic, onion, sausage and ground beef until they are golden brown.  Add tomato sauce, tomato paste and water.  Bring to boil.
If it's already boiling, add sugar, basil leaves, pepper and soy sauce.
Simmer for few minutes the set aside.
White Sauce:
Melt butter in a casserole and add flour.  Blend the ingredients well with whisk.
Then add milk and water.  Stir until you reach the desired texture of the sauce.  Add the cheese.
Simmer and then set aside.
BAKING METHOD:
Preheat the oven on 375 degrees.
Prepare the baking dish. Spread butter evenly or generously. Make sure you cover everything to avoid the pasta from sticking into the dish.
Layer the pasta at the bottom of the baking pan.  Spread the meat sauce and then the white sauce.  Repeat the steps by just layering the pasta, meat sauce and white sauce.  When done, place the cheese on top.
Place the baking dish with assembled lasagna and bake for 30 minutes or until the cheese has been melted.
Let it rest for about 10 minutes and then serve.
Enjoy this delicious recipe with your family.
You might also like
How to Achieve Happiness
Happiness is one important word in whoever's life. We live, we achieve and we work hard for us to achieve...