How to Cook Hungarian Stew – Hungarian Stew Recipe / Ingredients
posted by: Feby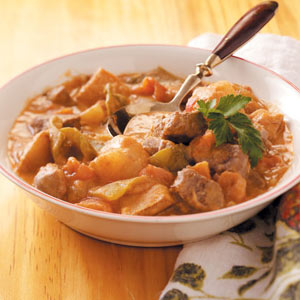 Hungary is one of the most interesting places that every people want to visit and travel to. They have preserved their history and culture yet they are not left behind by the pace of the ever changing world. Hungary is not just known for that but also known for the richness of their cuisine.
Hungary is so far from the Philippines I know, but it doesn't mean you can't taste one of their dishes. This article aims to bring the Hungarian cuisine into the Filipino kitchen by a Filipino dish which is known as Hungarian stew.
Hungarian stew is different from the Hungarian goulash soup. Anyway, to make you fully understand it, here's how to cook Hungarian stew the Filipino way.
Hungarian Stew Ingredients that you Need to Prepare
250 grams of Hungarian sausage, sliced diagonally
150 grams of  canned mushroom, sliced
250 grams of pork and beans
250 grams of spaghetti sauce
1 large carrot, sliced diagonally and fried
1 large onion, sliced
3 cloves of garlic, minced
1 piece of leek, sliced
Water
Salt
Pepper
Cooking Procedure
First, heat a pot and put a little amount of cooking oil. Sauté onion, garlic, mushrooms and sausage. Stir and cook for a couple of minutes.
Then, add water, pork and beans and spaghetti sauce. Season with salt and pepper. Bring to boil and simmer for about five minutes.
Next, you may put now the fried carrots and leeks. Stir gently and simmer for few seconds.
Finally, remove from the heat and transfer the food into a bowl. Serve!
You can incorporate Filipino style of cooking in different kind of dishes to make it edible for Filipino people. This is another certified swak sa panlasang pinoy.
You might also like
How to Cook Pesang Dalag
There are so many dishes you can do with mudfish or dalag, but I never heard of it used in pesa until...