How to Cook Spicy Vegetable Stew – Spicy Vegetable Recipe / Ingredients
posted by: Feby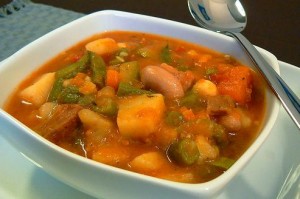 People are often confused between a soup and a stew. Stew is somewhat thicker in sauce, uses meat and vegetables and usually considered as a main dish. On the other hand, soup is thinner in consistency and served as a side dish.
In this article I will clarify that difference by sharing to you a vegetable stew recipe. I chose vegetables as main ingredient because it is always a healthier choice to prepare and serve to your family and loved ones. Please continue to read on and learn how to cook spicy vegetable stew the quickest and easiest way.
Spicy Vegetable Stew Ingredients You  Need to Prepare
250 grams of shrimps, shells removed
2 medium potatoes, cubed
1 medium carrots, cubed
250 grams ofbaguiobeans, sliced
1 head of cauliflower, removed from the stem
1 large green bell pepper, squared
2 large red bell pepper, squared
1 small can of evaporated milk
1 small can of pineapple chunks
1 tablespoon of curry powder
3 cloves of garlic, minced
1 medium sized onion, minced
1 medium sized ginger, sliced into strips
Salt
Pepper
½ cp of water
Here are the cooking instructions that you need to follow on how to cook spicy vegetable stew
First, heat cooking pot, put cooking oil and sauté garlic, ginger and onion until soft. Stir fry the carrots and potatoes. Add pineapple syrup and half cup of water. Sprinkle pepper and salt to season and taste. Let it boil in a very low heat.
Next, after 5 to 10 minutes, you may addbaguiobeans and cauliflower. Pour in the evaporated milk and mix the curry powder in it. Simmer and cook for few minutes. Stir occasionally.
Then, put the shelled shrimps, green/red bell peppers and pineapple chunks. Cook for another five minutes.
Finally, turn the heat off. Transfer the spicy vegetable stew into the serving plate. Serve hot!
This is another hearty dish that is filled with nutrients. You can also add sliced fresh chili  in it if you want spicier kind of dish. Spicy vegetable stew is different from spicy vegetable soup, so don't be confused by it.
Enjoy your meal!
You might also like