How to Cook Pork Mechado – Pork Mechado Recipe / Ingredients
posted by: Feby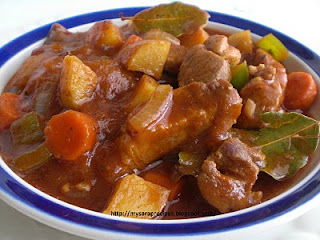 Mechado is a tomato sauce based stew in the Philippines. It is commonly served during holidays and special occasions. This Filipino dish looks caldereta but tastes differently. You can use pork or beef in this recipe.
Since mechado is always present on different celebration, you might think that this dish is difficult to prepare and expensive. Well, it's not. In fact, tomato sauce based stew recipes are so simple and quick to cook. All you just need to have is a comprehensive copy of this recipe and willingness to try to experiment on something.
In this article, I choose to write about how to cook pork mechado because pork is much cheaper but equally delicious to beef. Anyway, here are the things you need to have and prepare for pork mechado recipe.
Pork Mechado Ingredients you Need to Prepare:
500 grams of pork pigue, cut into serving size
2 medium sized potatoes, cubed
1 medium sized carrot, cubed
1 large red bell pepper, squared
1 small can of pineapple juice
3 pieces of regular sized hotdog, sliced
5 cloves of garlic, minced
1 medium sized onion, minced
3 pieces of bayleaves
½ teaspoon of ground pepper
250 grams of tomato sauce
¼ cup of soy sauce
Cooking oil
Water
Salt
Here are the Cooking Instructions on How to Make Pork Mechado Tastier:
First, put the pork, soy sauce, pineapple juice, half of garlic and pepper into a non metallic bowl. Mix the ingredients well and marinate for an hour. After an hour or more, remove the meat from the marinade. Set aside. Don't throw the marinade for later use.
Then, heat a cooking pot. Put a little amount of cooking oil. Sauté half of the garlic and onion until soft. Add the marinated meat into it. Stir until the meat changed color. Pour in the marinade. Add bay leaves and water. Bring to boil and cook meat for 10 minutes.
Next, add potatoes, carrots and hotdog. Pour tomato sauce into it. Simmer for 5 minutes.
After five minutes or less, you may add the bell peppers and salt to taste. Simmer for another 2 minutes.
Finally, remove from the heat. Transfer pork mechado into a serving bowl. Serve hot with steamed rice.
People often interchange different Filipino recipes especially if they use tomato sauce as their base. And also, people of different regions have their own version of the dishes, so sometimes it is hard to tell which is which. Anyway, the bottom line is, pork mechado is different from chicken/pork afritada, or from caldereta and from pork menudo.
You might also like
How to Cook Adobong Baboy
Filipinos are fond of discovering new dishes, adapting and creating variations to every recipe. That...

How to Cook Pork Tonkatsu
Nowadays, we don't need to travel abroad to have a taste of their famous delicacies and recipes because...