How to Cook Pesang Dalag
posted by: Feby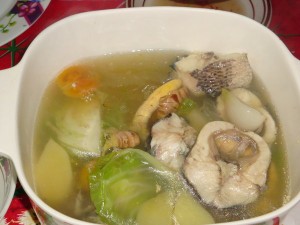 There are so many dishes you can do with mudfish or dalag, but I never heard of it used in pesa until I visited a friend in the province and served Pesang dalag during our lunch. The experience is new and pesang dalag tastes good too. By the way, pesa is another type of stew in the Philippines that uses fish as main ingredient instead of meat.
Being a food adventurer I asked my friend if she can share it with me the recipe so I can make some for myself and for my family back home. Luckily enough, she willingly shared it with me and made the same Filipino dish during our family day. Well, my family loved it too.
Since my family and I loved it, I was thinking maybe you'd want to try it also. So, I decided to share the recipe to all of you.
Anyway, here's how to cook pesang dalag:
Pesang Dalag Ingredients:
500 grams of mudfish ( dalag)
½ cup of ginger, sliced in strips
1 big onion, sliced
½ tablespoon of peppercorn
2 medium sized potatoes, cubed
1 medium sized cabbage, divided into 4 parts
Fish sauce/ salt
2-3 cups of rice water ( you can get it when you wash rice before cooking)
Cooking Preparation:
Before cooking the fish, make sure you clean it very well. You may rub salt, gutted it, and wash well to lessen the smelly odor. Cut into serving size. Set aside.
In a pot, put it in the rice water, ginger, onion and pepper. Bring to boil.
Add the mudfish. Re-boil.
After 10 minutes, put the potatoes and fish sauce. Simmer until the fish is cooked.
Add the cabbage. Cover the pot and simmer for few minutes.
Turn the stove off and place it in a serving bowl.
Serve with steamed rice.
This is another Filipino dish that all of us will love to prepare and taste. As you can read the above steps, they are not that complicated to follow and to make. I'm sure you can make your own version anytime and even on the last minute before your mealtime because this Filipino recipe is so easy and quick to cook.
You might also like
How to Cook Sopa de Fideo
It has been my passion to cook and try different dishes.   I love feeding my family with new found recipes...