How to Cook Escabeche – Escabeche Recipe / Ingredients
posted by: Feby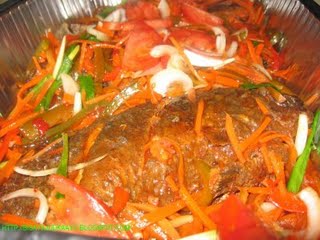 Once a year my family would dine at DAMPA. Dampa is a place in Manila which caters seafood "paluto" to a lot of Filipino people who go there. It has been part of our family day or family reunion, since we all love seafood. The last time we dine there, we tried to ditch the usual food that we ordered before and tried different dishes instead. Among the dishes that we asked them to cook is Lapu-lapu Escabeche. It was new to our taste buds and we loved it. From then on, I tried looking for some recipes and experimenting just to achieve the taste of the dish I have tasted in there. And finally I made it. Since I'm so happy that I made it, I'm sharing this Filipino recipe to you.
The cooking procedure is not that hard, you just need fresh ingredients to come up with the right taste. So, here are the ways on how to cook Escabeche.
How to Cook Escabeche  (Sweet and Sour)
Ingredients:
1 large fish ( Lapu-lapu or Tilapia)
1 medium ginger, sliced into strips
3 cloves of garlic, minced
1 medium bell green and red bell peppers, sliced into strips
1 small carrots, sliced into strips
1 onion, minced
½ teaspoon of peppercorn
¼ – ½ teaspoons of salt
3-5 tablespoons of brown sugar
Cooking oil
Water
Cornstarch
Cooking Procedure:
Preheat the frying pan. Pour a large amount if cooking oil. Deep fry the fish until its golden brown and crispy. Set aside in a plate with paper towel.
In a sauce pan, heat the pan and put a little amount of oil. Sauté garlic, ginger and onion. Add vinegar and water. Boil.
Put sugar, peppercorn and salt.
Add the sliced bell peppers and carrots into the saucepan. Simmer for few seconds. Don't overcook the vegetables.
Pour the cornstarch mixture into it and stir for few seconds until the sauce is thick.
Turn off the heat.
In a clean serving plate, place your fried fish and pour enough sauce into it.
Serve with hot steamed rice.
Hope you enjoyed learning another lutong Pinoy that is really affordable and quick to cook. This is simple and easy to cook Filipino dish that you can serve anytime and anywhere. Enjoy your meal!
You might also like