How to Cook Buffalo Wings – Buffalo Wings Recipe / Ingredients
posted by: Feby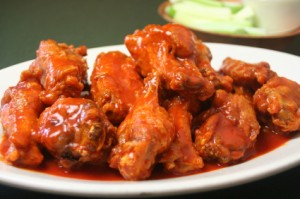 Are you looking for an easy recipe that will compliment your beer or liquor for your happy hours? Are you going to hold a house party and thinking what to add on your menu list? In this article, I will suggest a staple recipe that can compliment your beer and can be on your list when you hold a party at home. The recipe that I am talking about is Buffalo wings- Filipino style.
Buffalo wings is not the usual kind of dish you prepare using chicken meat. It's spicy and tasty. By the way, I think you need to taste it for yourselves. So, I'm sharing this recipe on how to make or how to cook Buffalo wings.
How to Cook Buffalo Wings
Ingredients:
1 kilo of chicken wings
3 cloves of garlic, crushed
Cayenne pepper
Pepper
Salt
½ cup of all purpose flour
Procedure 1:
Marinate chicken wings with garlic, cayenne pepper, pepper, salt for an hour.
Preheat the frying pan or deep fryer pan. Put a large amount of cooking oil. Before you add the chicken into the frying pan, be sure you roll it first into the flour.
Deep fry each chicken wing until they looked almost golden brown.
Set aside in a clean plate with paper towel on it.
Ingredients for the dipping sauce:
3 cloves of garlic, minced
½ tablespoon of tomato paste
Pepper
Oyster sauce or soy sauce
Water
Cornstarch
Chili
Procedure 2:
In a sauce pan, sauté the minced garlic. Add tomato paste, oyster sauce or soy sauce, pepper, salt, chili and water. Boil in a very low heat.
Add a mixture of cornstarch to thicken the consistency of the sauce.
Put the deep fried wings into the sauce and stir well until the sauce and chicken wings are blended well.
Serve with beer or steamed hot rice.
The procedures may look like a lot but when you try to do them, they are all easy and simple.
You can enjoy this dish anytime you want whether it's a house party or just a simple family day.
You might also like