Easy Christmas Recipe for Kids
posted by: Gretchen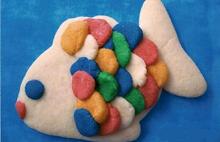 Kids love to be in the kitchen watching or helping mom cook.  Most of them find it really fun to bake cookies and simple food recipes.  This is cool and great because mom gets the chance to teach the kids.  It's also a good bonding for the family.
In this post, we are going to talk about one of the best and easiest cookie recipes for children this Christmas season.  It's called fish cookie, a creation of Taeree Glover from Texas.  Learn how to do it with your kids.  Keep reading:
Ingredients
2 eggs
1 cup of sugar
3 ¼ cups of flour
1 ¼ cups of powdered sugar
1 ½ cups of margarine
2 teaspoon of cream of tartar
2 teaspoon of baking soda
2 teaspoon of almond flavoring
Procedure
Mix the margarine, sugar, eggs, and almond flavoring in a large bowl. Do it until the mixture is smooth. Put together the baking soda, flour, and cream of tartar and then add it to the mixture. Mix thoroughly.
Divide the dough into 5 equal amounts. Keep one part white and put food colorings to each of the other parts. Put the dough in the refrigerator for an hour. This will make the dough easier to handle.
Create the cookies using colors and your creativity. Ask your kid to help you with this thing.
Using greasy cookie sheets, you can now bake the cookies in a 190oC for about 8 minutes. Keep it light brown and let it cool on wire racks.
You can now enjoy eating your creation.
This simple cookie recipe for kids is easy to do. Youth will love the fun of making it. Include this on your Christmas dish menu every year.  You can put some variations, too. Enjoy cooking!  Merry Xmas!
You might also like
How to Cook Spaghetti
Maybe you also notice like what I always do that when you go and attend different occasions especially...