No Bake Spareribs Barbecue Recipe
posted by: Feby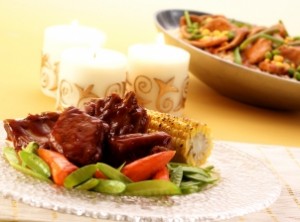 Are you trying to look for a new recipe that will excite everyone in your family? Are you worried what to prepare on a family day and to an upcoming celebration? Worry not anymore, because I have a perfect suggestion that you can cook and prepare pretty easily and quickly. Are you wondering what is it? Well, it's spare ribs barbecue- no bake recipe.
In this article, I will definitely guide you on how to make bbq spare ribs, so don't fret about preparing this. The steps are really easy to follow and you don't need a hand of a chef just to perfect this dish. Anyway, read on and find out how to cook spare ribs barbecue.
Spareribs Barbecue – No bake Ingredients:
1 kilo of pre cut pork back ribs
2 tablespoons of cornstarch ( mix with 2 tbsp water)
2 tablespoons of sugar ( brown)
2 tablespoons of Worcestershire sauce
½ cup of steak sauce
2 tablespoons of mustard
500 grams of sweet spaghetti sauce ( filipino style)
Pepper
Cooking Procedure:
In a clean pot, make a marinade by mixing spaghetti sauce, mustard, steak sauce, pepper, sugar and Worcestershire sauce. Mix the ingredients well and marinate the pork back ribs for an hour.
After an hour or so, boil the marinated ribs in the pot with the marinade in it. Let it boil in a low heat until tender.
Then, if the ribs are already tender, add the cornstarch mixture. Cook and simmer until the sauce becomes thick and almost dry.
Finally, turn the heat off. Remove from the pot and transfer it into a clean serving plate. Garnish with steamed vegetables and grilled corn on the side of the plate. Serve with rice.
Spareribs barbecue is one of the best recipes you can serve to your loved ones on special occasions and simple family day. Having this dish on your dining table is like eating it on a restaurant at a very affordable price.
You might also like