How to Dress like Ashley Tisdale
posted by: Gretchen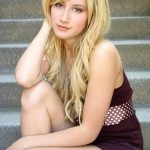 Ashley Tisdale is one of the famous personalities that people admire. The admiration of teenage girls often leads them to imitate the way she dresses up and the way she puts on makeup. That is how influential she is.
Ashley Tisdale is an American actress and singer who was born on July 2, 1985 in New Jersey. Her prominence is credited to her appearance in Disney Channel's 'The Suite Life of Zack and Cody' and the 'High School Musical' film series. This young lady actually owns a production company and she has worked as an executive producer in movies that included the ABC Family TV film 'Picture This.' She's beauty and brains, huh.
Ashley Tisdale Fashion Tips
Do you like her and her songs and movies? If you want to look like her, then you must learn the way she does her hair, the way she puts on her makeup, and the way she wears clothes. You can be an Ashley Tisdale look alike for less. Keep reading for style tips.
You should wear something stylish. If you have noticed it, Ashley often wears a simple but stylish tee on top of some designer jeans. This can be worn on casual days. For your footwear, you can wear open heeled shoes bright flip flops to add a twist plus a luxury purse by Chanel if you can afford it.
Tisdale loves baby doll style dresses. Find bright dresses that rise a few inches above the knees. Wear flat sandals to match your dress. Grab a good bag to match your outfit like something from Louis Vuitton. You don't need to buy similar bags but you can have bags that look like the ones she has at Claire's Accessories.
Wear little skirts and tank tops. Look for the dark ones as she often wears dark colors these days.
Tisdale's clothing is sometimes very casual. You see her in sweats with Ugg boots. You can wear sweats and comfy shoes and sunglasses.
For your makeup, wear something dark, neutral, and pretty. A light tinted lip gloss, a lot of mascara, eyeliner, and some eyeshadow would be fine.
You can visit the web site of polyvore to get more ideas and tips and you'll look like Tisdale. Good luck girl!
You might also like
How to Look Like Kesha
Have you heard Tik Tok?  Do you enjoy the beat of the song?  You have probably danced to the tune of...