How to Remove Dark Spots on Face
posted by: Rio Dianne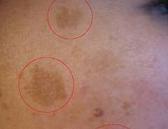 The facial skin is the most sensitive part of the body, and having dark patches or brown spots on it can be very distressing since it's always the part that a lot of people take notice of.  Dark spots can occur as a result of a skin disorder like melasma which appears during pregnancy, use of birth pills, and prolonged sun exposure.  It can also appear from pimples or acne. Dark sun spots on face, on nose, upper lip, or in any part of the body can leave one with low self-esteem.  Don't worry though as in this post, we'll give you tips on how to remove dark spots on face.  Here are some on how to get rid of them.
Removing Dark Spots on Face through Home Remedies
Home remedies for age spot removal are very popular since they are cheap and guaranteed safe especially if you have sensitive skin. Some of the things you can do to help lighten those disgusting spots are:
Lemon Juice: Mix the juice with honey and apply directly on face. Do this on a regular basis.
Aloe Vera Gel: This has been noted to do wonders in a lot of skin conditions. Apply the gel on your face everyday.
Vitamin E: This vitamin is another ingredient which can play an essential part in getting rid of those nasty brown patches on face. This aids in removing age spots and other patches on skin. The capsule can break open and apply the content on the face. It can also be taken orally if you want.
Massage your face with homemade remedy composed of oatmeal, yogurt, and lemon juice. Allow the mixture to sit for atleast 10 minutes before finally rinsing off.
Keep yourself hydrated at times and consume fruits and vegetables to help in reducing the chances of having them.
Put on sunscreen everytime you'll be out in the sun. The higher the SPF, the better.
Purchase quality cosmetic make-up to help hide the annoying marks on the face.
Other Treatments to Get Rid of Dark Spots
Laser Therapy – the treatment is one of the most sought after procedure to get rid of spots as well as other conditions in the skin. The method makes use of a light and heat thus eliminating unhealthy cells which causes the condition. However, laser therapy is expensive and may require often visits to the doctor for sessions.
Creams – Since therapy through laser may be hefty, lightening creams containing hydroquinone, tretinoin, and salicylic acid which can peel off the skin and act as depigmenting agent.  Meladerm and Vantex are some examples.
Chemical Peels – Chemical peel treatment is another option to fully eliminate unwanted marks or hyperpigmentation on your face. Solutions such as glycolic acid, lactic acid, and azelaic acid are applied on the face.  It peels off the skin which comes with the affected layer.
There you go; those are just some of the ways on how to remove dark spots on face.  Hope this has helped a lot!
You might also like