How to Look Like Kim Kardashian
posted by: Gretchen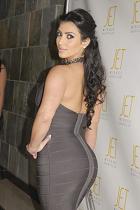 Many men fantasize Kim Kardashian.  Why not?  S he got the body and the face that truly captivate the eyes and heart of a man.  She is very popular because of her curvaceous backside.  This is the reason why many women also want to imitate the way she dresses up and the way she wears make up.  They even want to cut their hair just like the way she wears hers.  Girls just want to look like her!
Are you one of those girls who are dying to look like Kim Kardashian?  Well, I've got some beauty tips for you to at least look as if you were Kim.
Here's How to Look Like Kim Kardashian
There are many outstanding features of Kim Kardashian. One of her envious feature is her shapely body.  Her figure is a natural hour glass figure.  She does exercises up to four times a week. You might want to see her exercise videos with the title "How to Fit In your Jeans by Friday" to see how she maintains her figure through exercises. If you can do the exercises then you might be able to get a body like her.
Observe a healthy diet along with exercises.  Include fruits and veggies on your diet.  Stay away from junk food.
Wear your hair long and wavy like hers.  If you are impatient because you have short hair, consider hair extensions.
Since she has big breasts, then you need to have those, too.  Can't afford to undergo a surgery? Wear a bra that could make your breasts look bigger and sexier.
To get her enticing facial feature, try to practice applying make up using the products that she uses. She uses Lancome's Sensation Effect Eyeshadow in Designer Metallic and Revlon Naruraly Nude Lipstick.  You can learn the application procedure online.
Get your skin tanned and dress up like Kim Kardasian.
Search for photos and posters of Kardashian and learn more ways to achieve some of her assets.  You'll be really hot girl!
You might also like