How to Lose Weight in your Face Fast
posted by: Gretchen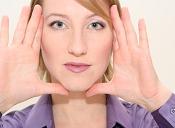 Are you tired of being ridiculed because of your facial appearance?  You cannot hide your face because it's the first thing that they see in you.  They notice your over-all facial feature.  You know that your face looks fat so you get conscious and irritated if you notice that people stare at you.
Instead of frowning and getting annoyed, cheer up because you can get rid of your chubby cheeks after reading the following tips.
How to Quickly Lose Weight in your Face
Cut down your intake or consumption of sugar, refined carbohydrates, fatty food items, and calorie-rich food items Sweet food items can cause swelling and inflammation of the blood vessels which can result to chubby or puffy cheeks.
Increase your consumption of fruits, vegetables and whole grains.  Eating these food items will keep you healthy and help you lose weight. Fibers can help your body become leaner.  Observe your diet.
Avoid salty food. Salt makes you retain water. Your face likes to retain and the water goes there which results to puffy cheeks.
Avoid excessive intake of alcohol.
Drink plenty of water to detoxify the body.
Have a regular exercise to lose weight.  It is not only for your face but for the whole body as well.  You can't lose quickly.  It takes time before you lose weight. You need to be patient in doing the exercises so that you can burn more calories. It's one way to lose weight naturally.
You can also try facial exercises like smiling or sucking your cheeks in. Facial exercise can be helpful to tone your facial muscles. You need to exercise your neck even once in a week.
Use the right color of foundation for you.  Choose the one that can make the chin and cheeks look slimmer.
Slim face is on your way if you observe a healthy lifestyle plus patience and determination.  Good luck!
You might also like