How to Get Rid of Eyebags Naturally and Fast
posted by: Feby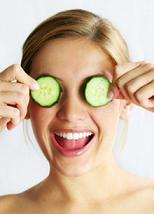 Our face has a very important role when we talk about physical appearance.   Face should be free from blemishes and other unpleasant things.   Face speak a thousand words even of you don't speak a word.   You can tell from a person's face whether she lacks sleep or even tired and these things are written on your eyes too.
Just like face, our eyes say things beyond words. Sometimes in our lives we experienced having dark eyebags, dark circles, baggy eyes or eyelid because of stress, aging, lack of sleep or simply tired.  These problems are seemed simple but they could be bothersome.   Don't worry, you can get rid of puffy eye bags without surgery by following the steps you can read in this article.   So how to get rid of eye bags naturally and fast ?
Here are Some Home Remedies that you can Try at Home to Get Rid of Eye Bags :
Cucumber.  Slice cucumbers and place them on the freezer.  Once they are already cold you can place a slice on each eye for about 10 minutes.  This will help relax your eyes and can help to remove eye bags.
Almond oil.  Apply a liberal amount on your dark circles or eyebags. It will lessen the darkness and puffiness of your eyes.
Green tea.  Tea bags may be used to get rid of eyebags.  Just chill or freeze tea bags then place them on your eyes. It contains anti inflammatory properties than can help remove puffiness on your eyes.
Potatoes. Cut the potato into two then place them on your eyes for about 20 minutes.
If you want to know how to remove eyebags permanently and quickly then it's about time to see your dermatologist.   Surgery or eye cream can be use as fast treatment for this problem.   Home remedies can be done for minor cases and the result will take longer compared to some alternatives in getting rid of baggy eyes.
Remember you need to avoid food and activities that can contribute to this problem.   Being healthy or having a healthy lifestyle is always the best thing to prevent or get rid of this problem.   Love your body and take care of it while you can.
You might also like