Travel Destinations for Thanksgiving
posted by: Gretchen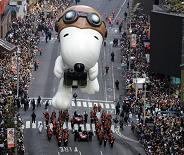 November is for Thanksgiving!  How do you plan to celebrate it?  Is it the typical way or do you want something new this year? Have you tried celebrating Thanksgiving in other places? If you haven't, then probably it's time to experience the spirit of the holiday in some other parts of the world.
Thanksgiving Destinations
New York City.  Witness the annual grand Macy's Thanksgiving Day Parade where you get the chance to see marching bands, celebrities, politicians, and impressive floats at once. Enjoy ice skating in Rockefeller Center and shopping at Fifth Avenue.  The hotels in New York City offer a variety of travel packages and itineraries.
Maui, Hawaii.  The island of Maui is one of the top destinations for a holiday like Thanksgiving.  The resorts and hotels in Maui have Thanksgiving Day feasts but with a little Hawaiian sparkle.
San Francisco, California.  There are a number of restaurants that offer Thanksgiving favorites.  They also have this Turkey Trail Trot in Golden Gate Park.  Visitors will also enjoy the Golden Gate Bridge, an engagement ceremony.
Playmouth, Massachusetts: Do you want to celebrate Thanksgiving in pilgrim-style?  Visit one of the best places there like Plimouth Plantation and you can board a life-size replica of the Mayflower.  You will tour the landing site of the Mayflower and you'll pay respects to the Massasoit statue, the native Wampanoag chief.
Phoenix, Arizona.  The Indians were the first inhabitants in America. Arizona is the home of Indian reservations, including the Navajo Reservation.  Celebrate the holiday with a tour of the Heard Museum and a walk down the Apache Trail.
Book your Thanksgiving flights early and find the cheap places to celebrate the holiday. Enjoy your Thanksgiving vacation!
You might also like