Tips when Traveling to Las Vegas
posted by: Gretchen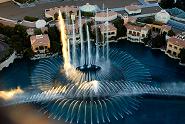 Deciding to have your vacation in Sin City is a great idea if you are seeking for an extraordinary nightlife and luxurious casino games.  Being the Entertainment Capital of the World, it offers a lot of exciting things for you to see and experience.  You'll see there the giant mega-casino hotels where you can stay and gamble all night and all day.
But planning and deciding to go there is just the start. Your plan should include some things to consider. In this post, we are going to talk about some important things that you should know when traveling to Las Vegas.  These include the following:
Travel Tips to Las Vegas
You should know the things that you can do in Las Vegas.  The things that you should not miss include: seeing the Bellagio Fountain show, the Gallery of Fine Art at the Bellagio, the Eiffel Tower Replica, Las Vegas Space Flights, the Volcano Eruption at the Mirage Hotel, the Treasure Island battleship Show, and the Fremont Street Experience; visiting the Liberace Museum and the Strip; and gaming at the Las Vegas Hilton.
Be aware that there are several options for getting from the airport to your hotel. There are shuttle buses that cost $5 to Strip and $7 to downtown hotels each person.  If you prefer a cab, it will cost you $15 to Strip hotel and over $20 to downtown hotels.  Tell the driver not to take the freeway because it will raise your fare.  If you want limousines, you will need to prepare $55-$65.
Book your reservations to hotels early so you can get a good room.  Try Planet Hollywood, Caesar's Palace, Flamingo, or any other hotels.
Don't forget to give tips to bellmen, waitresses, maids, shuttle bus drivers, and valet parking attendants.  You should know that they have low salaries and if they give you good services, giving them some amount would be appreciated.
Bring soft and comfortable shoes because there's too much to see and enjoy in Las Vegas.
If you plan to take a Hoover Dam tour, take the tour buses.
Keep your valuables well covered to avoid being robbed.  Don't leave them unattended.
Always use the additional dead-bolt lock when you are in your room.
Don't leave your valuables and cash in your room.  Have them kept in the hotel safe.
Use the crosswalks to avoid jay-walking.  This is one of the traveling tips that you need to bear in mind.
There you go!  Now you know the important things to keep in mind while visiting the good spots in Las Vegas.  Enjoy your flight and travel.
You might also like
Fun Hotels in Las Vegas
Las Vegas, The Sin City has a lot of exciting things to offer.  It is renowned for gambling, fine dining,...