Best Places for Spring Break
posted by: Gretchen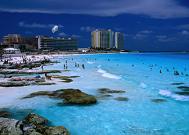 Spring break is here!  Why don't you go on a vacation and enjoy life away from your university or work? Spring break isn't only for college students but for everyone from all walks of life.  Travel and visit the places that you have never been.  No idea?  Don't worry because after reading this post you will have a lot of destination ideas for spring break.
Top Places to Have your Spring Vacation
Cancun, Mexico:  Cancun has always been one of the world's favorite vacation spots.  You can enjoy plenty of things it has to offer like water sports, catamaran rides, jungle tours, and of course parties at beach houses and clubs.  This is one good spot for college students seeking for adventures. It's actually a warm place.
Florida:  Have you heard about Panama City Beach?  It is one of the top beach resorts in the US because it's clean and white.  If you like the thrill of scuba diving and fishing, then you will enjoy Panama City Beach.  Miami Beach is also one great place to get pleasure from your spring break. You can also go to Orlando to experience the fun in Disney World, SeaWorld, and Universal Studios.
Lake Havasu, Arizona:  You'll be amazed by the beauty of its British theme.  It's a great destination for you to experience the fun of lake activities, white water rafting, and mountain biking.
Cabo San Lucas, Mexico: The perfect beaches can make you temporarily forget how stressful the world is.  The clubs have amazing DJs. Of course there are also water activities.
Europe:  Most American students fly to Amsterdam, Rome, Paris, and London to have a great time on their March break.
Spring break is even more fun if you spend it with families.  If you don't have much money, you can still enjoy it.  Look for cheap places and have a good time!
You might also like