Best Time to Travel to Greece
posted by: Gretchen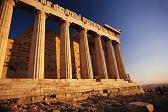 Thinking of going on vacation to Greece?  Well, it's a good choice.  Greece is very rich in culture and arts and considered as the cradle of Western civilization.  It is actually the birthplace of Western philosophy and literature, democracy, political science, the Olympic Games, and mathematical principles. Its history really fascinates everyone.
Before going there, you need to consider its weather and temperature.  These are some of the things that you need to think about to make sure your visit and stay in Greece will be great.  Knowing them will let you experience popular Greece islands like Santorini.
Weather in Greece
It has a mild climate though the northern interior part of the country can experience harsh winters and brief summer.  The southern part enjoys a fairly mild winter. It is usually hot and dry in the summer.
Best Time to Travel
The best time to go to Athens and other places there starts in May to mid-June before summer arrives.  It is because there are fewer tourists in the streets and lower prices.  You will also experience better services during this time because fewer tourists are in there to avail of the services.  It is also good to take flights to Greece in September to mid-October.  The weather is nice and you will be comfortable with it plus no crowds in great and must-see places there.  By late October flights and ferry service start to cut back and many facilities close for the winter.  It is not wise to go to Greece in the winter which stretches from November to March because many hotels and facilities are not available although prices are its lowest.
Travel Tip
To enjoy your stay in Greece, it is advised to use the Eurail Greece-Italy rail pass to have 10 days of unlimited train travel within a certain period.
Greece is one of the cheapest countries in Europe to visit.  When you get there do not forget to taste the local food to make your trio more wonderful.
You might also like