Best Places in the World to Scuba Dive
posted by: Gretchen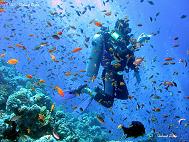 Scuba diving is one of the best and thrilling water activities for people who simply love adventures.  If you are on a nice tropical island, scuba diving is really fun.  You'll get closer to the living things underwater. You'll meet Nemo and will be able to see the beauty of coral reefs.  But before you go underwater, make sure you have scuba diving certification even if you do it for fun.
Good Places for Scuba Diving
For those who are really into this water sport, here are some of the world's best destinations for scuba diving that you might want to visit:
Costa Rica:  It's still young when it comes to recreation but you will not forget your scuba diving experience in this area because of its superb ecotourism.  Start your adventure from Punta Gorda to Catalinas and meet the angelfish, sharks, mantas, and beautiful coral reefs.
Gili Islands, Indonesia:  You will never be disappointed with the amazing sights that you'll see in these islands.
Islands of Hawaii:  One of the top dive sites in the world are in the islands of Hawaii.  Big Island offers unique diving experience. There area also other attractions in the islands.
Cayman Islands:  The islands of Cayman Brac, Little Cayman, and Grand Cayman belong to the top scuba diving sites.  These are perfect for scuba diving lovers.  You'll never run out of amazing sights to see and enjoy in the Caribbean.
Red Sea:  The Sudan side has the wreck of the Umbria which is one of the most photogenic wrecks in the world.
There are other good scuba diving destinations that you can try.  If you want to try all the locations mentioned above, make sure that you are really prepared and you have the proper equipment for your safety.  For those who don't know this sport, it's never late to learn to scuba dive or snorkel.  Are you ready divers?  Have fun!
You might also like
Top 10 Mexican Beaches
Have you been to Mexico? Do you have any plans going there?  The next time you think of having your...