Top 10 Mexican Beaches
posted by: Gretchen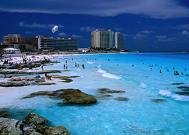 Have you been to Mexico? Do you have any plans going there?  The next time you think of having your summer vacation, try to consider spending it on Mexico. It is home to the most beautiful and amazing resort and pebble beaches in the world.
Here is a List of top 10 Mexican Beaches
Cancun:  It is one of the most popular and one of the best Mexican travel destinations. Why not?  It has almost perfect beaches.  Rows of palm trees line a tropical beach in the place.  You'll find luxury hotels and all inclusive resorts that offer great deals. The beaches are great for different exciting water activities like scuba diving.
Los Cabos:  Los Cabos is Mexico's paradise for all seasons! It is very proud of Melia Cabo Real Beach & Golf Resort because of its charm and delight.  The resort offers you great choices to choose from.
Acapulco:  If you are familiar with the beauty of Mexican beaches, you'll never forget to mention Acapulco. It has amazing beaches and nightlife, plus mouth-watery restaurants.
Puerto Vallarta: Cultural activities plus gorgeous beaches!  These are the things that make this place a favorite of tourists.
Isla Mujeres:  This is a small island with great beaches like Playa Paraiso and Playa Norte.  Playa Paraiso is for those who want a secluded beach.
Maroma Beach:  It is where you dream holiday vacation could be a reality. It is more peaceful compared to Cancun. It is actually perfect for a family vacation.
Mayakoba Beach:  This is a private beach for the guests/ visitors of Mayakoba Fairmont.  Enjoy its sand, restaurant, quiet pool and shady cabanas where you can have a view of sunset.
Cozumel:  It is a popular stopping point on Caribbean cruise vacations and you'll enjoy different water sports on its splendid beaches.  It is great for scuba diving.
Todos Santos: It is a small but exciting town. It has not been exploited and discovered but this is truly amazing. There are great surfing spots and souvenir shops where you can get Mexican sandals.
Ixtapa:  It is located in the Mexican Riviera. It rarely rains in the place which makes it a very good destination. You'll find there snorkeling, surfing, scuba diving, boating, and others. It is one of the greatest places for summer vacation.
Hope this can help you decide where to go in Mexico.  Have a good time!
You might also like