How to Keep a Guy Interested after the First Date
posted by: Gretchen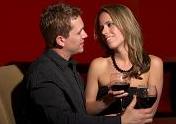 Dating is really cool, more so if you are dating with the person you really like. However, it is very frustrating when you only get the chance to be with him on the first date and then he's gone.  After your first date, he began losing interest in you while you are starting to like him more and more.  Isn't it very frustrating and embarrassing?
To avoid experiencing this humiliating situation, you need to learn the art of keeping the guy interested to you after the first date.
Dating Tips to Key a Guy Interested after First Date
Show independence.  As much as possible avoid being to clingy to the man even if you are really interested in him.  You know that most men are afraid of deep emotions.  Give him space to realize you are worth of his attention.
Play hard to get but keep a constant communication with him.  Don't let him kiss you on your first date so he will have something to look forward to.  Guys love challenges.  Make him want you more and more each day and let him miss you.  Even if you miss him, don't do the first move.  Keep it as a secret.  You'll soon get another date with him. If you know the man well, you know how to play this game.
Be cool and show confidence.  Don't be very jealous. Believe in yourself and you can make the guy like you.
Don't let the man feel that you are actually trying to get him. It will turn him off.
Feel free to express your opinions even if they contrast his opinions. This shows that you are intellectual and that you stand for what you believe in. This shows that you love and respect yourself and he will also do it.
Make him feel appreciated and loved. Men love being appreciated. Make him fall in love with you with this. When he becomes your boyfriend, be more generous of praises.
I hope that this dating guide/ advice helps you.  How to tell if these tips work? It's simple.  If he asks you out again, then your tricks are definitely working! You've done your best to flirt with him in a subtle way.
You might also like
How to Date a Family Friend
When dating someone who is close to your family, there are many things that you have to put into consideration....

How to Date on Facebook
Social networking is very popular now.  We have Facebook, Myspace, Friendster, and Twitter.  Among...