How to Date a Tomboy
posted by: Gretchen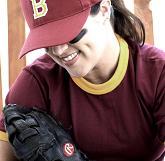 Homosexuals have their place on earth.  They have the right to live their lives the way they want it.  They have the right to fall in love and be loved.  They are just humans like us.  They have emotions but they are often misjudged.  If you are into dating a lesbian or tomboy, then here are some dating tips for you.  Take a look at the following:
Guide when Dating a Tomboy
Even if the girl you are dating with is acting like a boy, she's still a woman. You have to understand it.  She cannot give you the real happiness that you can have with a man.  What I'm saying is, don't expect her to be your dream man.  You belong to the same gender no matter how she tries to act like a man.  Her emotions could still be like yours.
If you are a man and interested in dating a man, treat her like a real lady. She's still a woman even if she appears to be a man like you.  Show her how it feels like being a woman loved and adored by a man.
Respect her the way you respect other women.  Be gentle to her.  As you do this, you slowly help her realize that she is a real woman.
Tell her how beautiful she is.  She's still a woman so deep inside, she loves your compliment.  You know pretty well that women love compliments from men.
Join her outdoor activities.  Show interest on things that she loves.
Appreciate her effort to help you with things that girly women won't do like fixing your car or any other things that usually men do.  This dating advice will help you get close to her.
This dating guide aims to make your relationship with a tomboy stronger and healthier. Enjoy the fun of being in love!
You might also like