Korina Sanchez Suspended after the Anderson Cooper incident?
posted by: Dennis Aguilar
Seems like Korina has been suspended according to the rumors that spreads on
social networks like facebook and twitter nowadays after her unbiased remarks about CNN's anchor and correspondent Anderson Cooper.
During Anderson's report on Wednesday, He said that the goverment seems very slow in helping the people.
"No evidence of organized relief  and rescue operation around Tacloban. I haven't seen much of relief effort, I haven't seen a large military presence." Anderson said.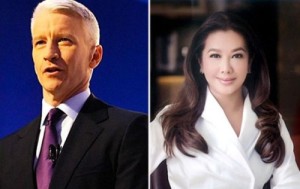 Korina then reacted on radio show and she said:
"Itong si Anderson Cooper,  sabi wala daw government presence sa Tacloban. Mukhang hindi niya alam ang sinasabi niya."
Netizens reacted negatively to her, they said that instead of thanking Mr. Anderson for going all the way here in the Philippines just to report and help the victims, she is criticizing him.
Now it has been 3 days that Korina doesn't show up in TV Patrol. Many people
believe that she has been suspended by the network for what she did.
What do you think? Don't forget to leave your comment.
You might also like