"It Will Be Bloody" – Duterte Warned China If It Will Attack The Philippines
posted by: ofri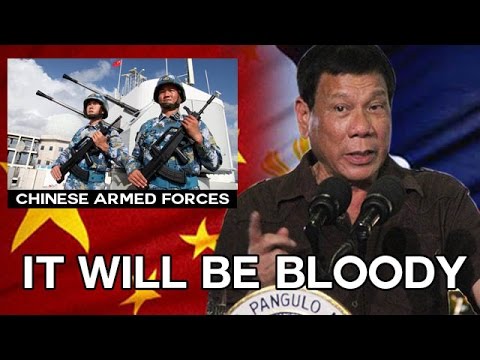 "It will be bloody" – This was a firm statement by President Rodrigo Duterte to China on Wednesday after a speech to 2nd Infantry Division of the Philippine Army. If China insist on its claim in the West Philippine Sea or also known as South China Sea and  would attack the country, the President warned that it will be the bones of the Filipino soldiers and His. He quoted as saying "We'll not allow any country to bamboozle (us). We'll not allow it."
"We will not raise hell now because of the judgment but there will come a time that we have to do some reckoning about this. But we will chart our own course in the national interest of this country," Duterte added
Last July 12  the Permanent Court of Arbitration  based in Hague denied China's claims in the tensely argued territorial waters , which includes Parcel and Spratly Islands and Scarborough Shoal. The recent dispute was with Bajo de Masinloc or  Scarborough Shoal which is within the 200 nautical mile Exclusive Economic Zone (EEZ ) of  the Philippines. China was firmed on its decision that they owned the entire island historically  and would not recognized any international intervention and opt for a bilateral talk instead.
Other Asian countries including Indonesia, Brunei, Thailand,Taiwan Vietnam and Malaysia also appealed to the said  contested islands.
Earlier this month Duterte sent former President Fidel Ramos to Hongkong to meet and talk with his former friends to pursue on the bilateral talks with China.
You might also like