Crazed Customer Punches Female Clerk Over 41 Cents (Video)
posted by: Dennis Aguilar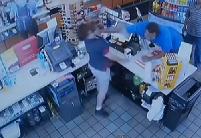 Without a warning Kendrick Ruth – a Californian evil man viciously punched a female store clerk in a dispute over 41 cents.
The incident happened at the Lakewood, California Chevron Gas station.
Yadira Lara – the clerk, said that he wanted to buy a cigar that costs $1.41 but he just gave one dollar bill and she said that she needed the 41 cents. The customer then got mad and without a warning punched Lara in between her eyes. Watch the video below.
The woman was left with permanent damaged in one eye. Lara said, "I just wish I just could've given it to him and none of this  would have happened,"
Kendrick Ruth is now being held in jail on $100K fine.
You might also like