An Assassination Plot Against Duterte Revealed
posted by: ofri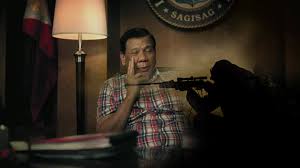 Wilford Palma a helper and a suspected gun smuggler was arrested by Criminal Investigation and Detention Group  ( CID) operatives in an operation against loose firearms at Villa Cristina Subdivision in Baranggay Tangub last August 6.
Authorities confiscated smuggled gun parts worth P4.5 million from Palma and his boss Bryan Tala-ala which was said to derived from the United States to Bacolod. At a press conference on Thursday at Camp Crame Philippine National Police Chief Ronald "Bato" Dela Rosa presented one of the arrested suspects Wilford Palma who disclose that they sold gun parts that could be assembled into more than 100M-16 rifles to a client who said "he will use the guns to assassinate President Duterte."
"My boss sold more than 100 upper receivers ,40 barrels, 30 bolt assemblies to the client Palma added. Tala-ala who is Palma`s boss was confined in a hospital in Bacolod after his arrest due to health issues.
"Actually di pa natin natumbok tong tao na ito pero most likely hindi siguro siya yun gun for hire, Baka inutusan lang eto ng sindikato na bumili para gamitin for that purpose". the PNP Chief said. Dela Rosa decline to reveal the person behind the assassination while the investigation is ongoing.
President Duterte in other hand was undaunted about the assassination reports as "he eats threats for breakfast".
You might also like